AAS Committee on the Status of Women
Issue of October 30, 2020
eds: Heather Flewelling, Nicolle Zellner, Maria Patterson, Alessandra Aloisi, and Jeremy Bailin
[We hope you all are taking care of yourselves and each other. Be well! --eds.]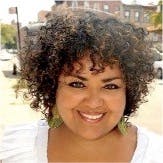 Elizabeth Yeampierre, item 2
This week's issues:
2. A power list of the LatinX scientists who are changing the world
3. Coming soon: PI Launchpad 2021
4. One in five Australian scientists planning to leave the profession, survey shows
5. Equality and diversity efforts do not 'burden' research - no matter what the UK government says
6. Untapped computer scientists
7. AAAS drafts plan to address systemic racism in sciences
9. How to Submit to the AASWomen Newsletter
10. How to Subscribe or Unsubscribe to the AASWomen Newsletter
11. Access to Past Issues of the AASWomen Newsletter
An online version of this newsletter will be available at http://womeninastronomy.blogspot.com at 3:00 PM ET every Friday.
!doctype>