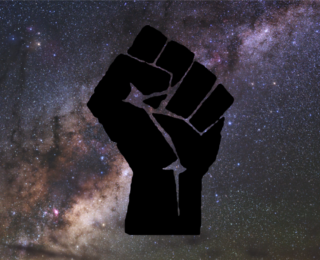 Image credit: Astrobites. Credit for the Milky Way picture in the background of the featured image:
ESO/B. Tafreshi (twanight.org)
Astrobites, a grad-student led website that summarizes astrophysical journal articles for undergraduates, has been posting articles highlighting the experiences of Black astronomers in their series #BlackinAstro. We highlight the articles here with links to read more.
#BlackInAstro: How Can We Support Black Astronomers?
By Astrobites
This week, the U.S. is rising in protest in the wake of the murder of George Floyd by the Minneapolis Police Department. The murders of George Floyd, Breonna Taylor, Tony McDade, and Ahmaud Arbery are the most recent in a long history of extrajudicial murders of Black people in the U.S. We at Astrobites stand in solidarity with the protestors, and against the systemic anti-Blackness that continues to enact violence on Black people in this country. We recognize that these same systems pervade academia and our field, and contribute to the inequities present in astronomy.
Why are we discussing these issues on an astronomy website? First, our scientific research is stronger when it comes from a community grounded in respect and diversity. But most importantly, we believe that the people in our community should be prioritized over our science. In order to do so, astronomy must be explicitly anti-racist and actively work to support Black students and researchers.
Read more at
https://astrobites.org/2020/06/03/how-can-we-support-black-astronomers/
#BlackInAstro: Black Representation in Astro/Physics and the Impact of Discrimination
By Astrobites
Black students and researchers are drastically underrepresented in physics and astronomy. In this post, we break down some of the statistics about the representation of Black students in academia, and summarize some of the existing research on the experiences of Black students and researchers in STEM.
Read more at
https://astrobites.org/2020/06/12/blackinastro-black-representation-in-astro-physics-and-the-impact-of-discrimination/
#BlackInAstro Experiences: KeShawn Ivory
By KeShawn Ivory
Graduate student KeShawn Ivory writes on how being Black has affected his trajectory in astrophysics, what the field would ideally look like for him, what he needs non-Black folks in the field to understand and change, and how all these questions are really one and the same.
Read more at
https://astrobites.org/2020/06/19/black-in-astro-keshawn-ivory/
#BlackInAstro Experiences: Ashley Walker
By Mia de los Reyes
To start off a full week of #BlackInAstro posts, we interview Ashley Walker—the person who came up with the #BlackInAstro hashtag!
Read more at
https://astrobites.org/2020/06/22/black-in-astro-ashley-walker/
#BlackInAstro: Not a Lack of Science Aspiration, But a Lack of Career Inspiration?
By Luna Zagorac
Today for #BlackInAstro week, we summarize a sociological study on Black students' science aspirations & how to improve the "thinkability" of science careers.
Read more at
https://astrobites.org/2020/06/23/black-in-astro-science-aspiration/
#BlackInAstro Experiences: Cheyenne Polius
By Cheyenne Polius
Graduate student Cheyenne Polius writes about her experience as a Black woman studying astrophysics in the UK!
Read more at
https://astrobites.org/2020/06/24/black-in-astro-cheyenne-polius/
#BlackInAstro: Black Women in Astronomy and Physics
Kate Storey-Fisher
Today's post for #BlackInAstro week looks at the underrepresentation of Black women in astronomy and physics, and summarizes two papers on their lived experiences in the field.
Read more at
https://astrobites.org/2020/06/25/blackinastro-black-women-in-astronomy-and-physics/