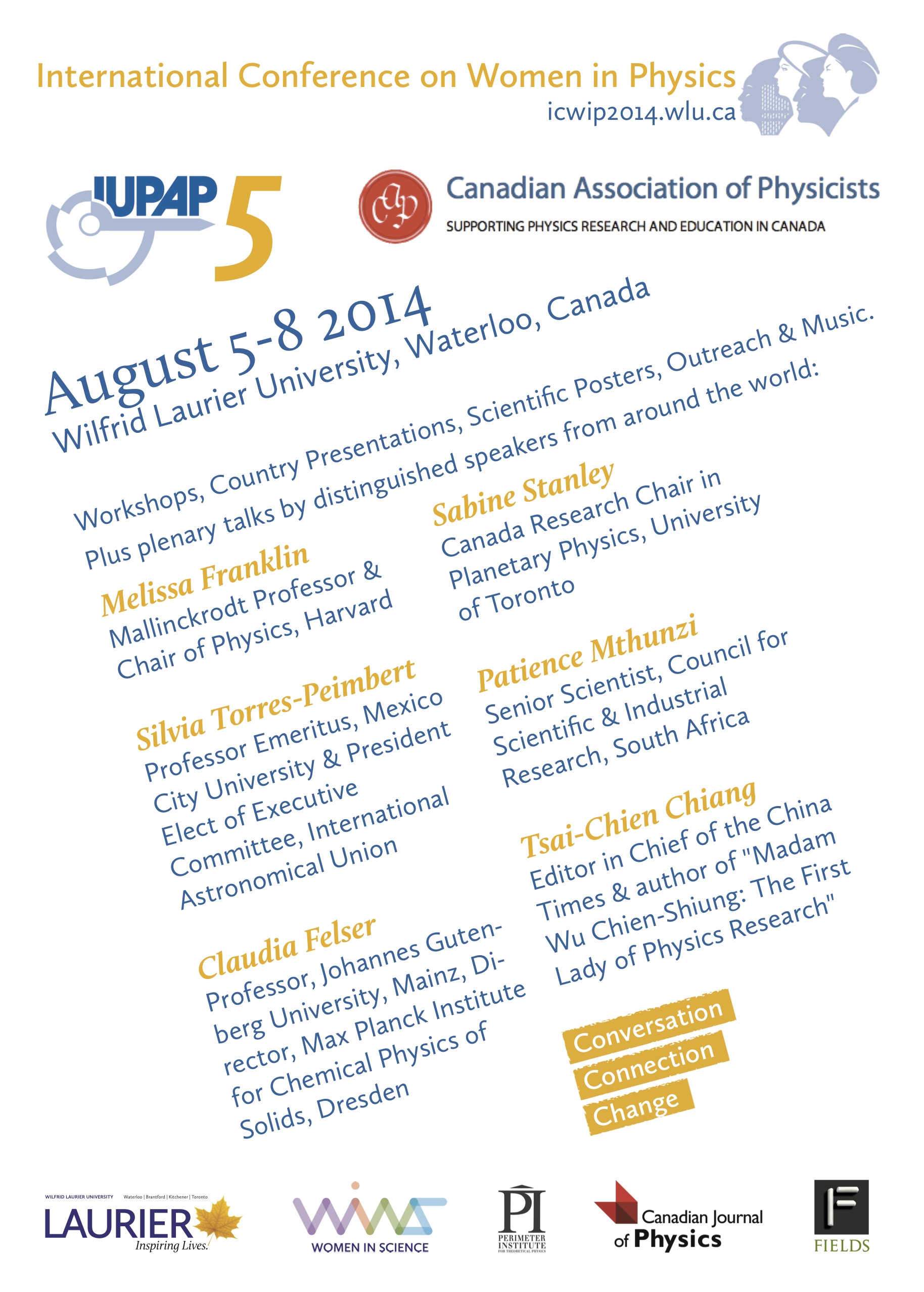 Last week I had the privilege of attending the
Fifth International Conference on Women in Physics
at Wilfrid Laurier University in Waterloo, Canada, as part of the
US delegation
. The conferences have been held every three years starting in Paris in 2002, followed by Rio de Janeiro, Seoul, and Stellenbosch (South Africa). The most recent conference attracted about 250 attendees (more than 95% women) from over 50 countries. It was my first time attending the series although not my first time attending a conference on women in physics or astronomy. The bottom line is that this was a wonderful experience that gave me many new ideas, friendships, and connections that will help me advance gender equity in physics and related fields.
These conferences are organized by the
Working Group on Women in Physics
of IUPAP, the International Union of Pure and Applied Physics. Roughly, IUPAP is to physics what the IAU (International Astronomical Union) is to Astronomy. Its mission is "To assist in the worldwide development of physics, to foster international cooperation in physics, and to help in the application of physics toward solving problems of concern to humanity". To that end, IUPAP organizes conferences, presents prizes and awards, and makes recommendations to members and observer organizations including the American Physical Society and the European Physical Society.
Like many scientists, I have attended numerous international conferences and enjoy the fact that science knows no borders. Nowhere is this more clear than at ICWIP. It was amazing to meet women physicists from every continent, and to see how diversity and excellence go hand in hand through the tremendous variety of backgrounds represented at the conference. Although every plenary lecture was outstanding, I was most impressed by the one on Biophotonics by
Dr. Patience Mthunzi
of the National Laser Centre in Pretoria, South Africa. Her presentation made me think of the
Next Einstein Initiative
of the African Institute for Mathematical Sciences, which seeks to develop the scientific potential of Africa. Dr. Mthunzi is already making that dream a reality. When asked by an audience member what advice she would give to a young girl who wanted to be her, Dr. Mthunzi replied, "I would advise any young girl not to be me but to supercede me." She is brilliant in more than one way.
The conference showcased initiatives undertaken by many countries to advance women in physics and related fields. I was especially impressed with
Project Juno
of the UK Institute of Physics, which challenges and recognizes physics departments to promote gender equity. The
initiatives undertaken by the Canadian Natural Sciences and Engineering Research Council
(roughly the equivalent of the US National Science Foundation) are also impressive, including their funding of prize chairs for women and their support for family and medical leave, which are more extensive than similar efforts by the NSF. The US and other countries can learn from the efforts of these organizations and others.
In addition to the uplifting stories, there were many deeply moving stories of struggle and lost potential. In Finland -- the first country to give women the vote --- women are still excluded from some key decisions made by men in sex-segregated saunas. Although more women are entering physics than before, the glass ceiling appears to be universal. And so the IUPAP Working Group on Women in Physics, like CSWP and CSWA, has to continue education and policy efforts to improve the status of women. To this end, the conference is preparing a set of resolutions and recommendations for IUPAP. One of them may be to adopt a statement similar to the
Baltimore Charter
of the AAS, along with an implementation guide similar to the
Pasadena Recommendations
.
Although the context of women in physics and astronomy varies widely around the world, and cultural sensitivity must be part of our toolkit, ICWIP shows that we have much more in common than in distinction. The underrepresentation and underutilization of women in physics and astrophysics is a common experience around the world. Fortunately, women and men unite at ICWIP and in many other settings to advance the status of women, so that we will gain the talent and contributions of countless women around the world who seek to pursue careers in physics.